Courses are conducted in a courteous and caring manner with personal attention to the needs of each student . You can be assured of informative and patient instruction that will have you relaxed and at ease.
Introduction to Fly Fishing
Learn to Fly Cast
Introduction to Saltwater Fly Fishing
Intermediate Level Tuition & Distance Fly Casting
Advanced Level Tuition
Private Tuition
Corporate Services
2 Day Introduction to Fly Fishing + Waterside Accommodation

---

Introduction to Fly fishing.
4 hrs - $ 275 (2 or more anglers / $225 each )
0ur introductory fly fishing course covers all the basics to have you equipped and ready to head out on your own to enjoy the sport of fly fishing. All equipment , class materials and course notes are supplied.
We cover all you need to know in this workshop:
Fly Casting technique

Rods & Reels

Lines, leaders and tippets

Knots

Flies

Handling and releasing fish

Clothing and equipment
We begin with a background of fly fishing including an equipment overview before covering tackle set-up, fly casting theory & casting tuition.
---
Learn to fly cast.
2hrs - $150 (2 or more anglers / $135 each )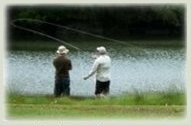 Do you own a fly rod but have never learnt to cast or are you a conventional tackle angler and always wanted to have a go at casting a fly rod ?
This course is designed primarily at learning to cast a fly rod. You will be instructed in the basic principals of fly casting and spend most of the time hands-on casting. We supply all equipment required if you don't own a rod. It's guaranteed fun and you will be surprised how easy it can be when you're instructed correctly. It will have you confident in taking up the sport of fly fishing.
This is a great course for the occasional fly fisher who owns a rod but has never had instruction and just needs help in achieving confidence in their fly casting.
---
Introduction to Saltwater Fly fishing.
2 hrs - $ 150 ( 2 or more anglers / $135 each )
0ur Saltwater Fly fishing introductory course is aimed at fly fishermen who would like to fast track their knowledge of the saltwater side of the sport. There are many fly fishers who primarily fish inland waters and welcome the opportunity to get the basic knowledge required to have themselves equipped to successfully fish our saltwater environments. We get you 'up to speed' quickly covering all you need to know. We then spend time on the water covering retrieves and distance casting tips.
---
Intermediate Level Tuition & Distance fly casting.
2 hrs - $ 150 ( 2 or more anglers / $135 each )

While many fly fisherrmen find casting a distance of 50-60ft achievable, it's that extra expertise required to cast a distance of 80ft+ that is a real challenge. This specialist course aims at providing personalized tuition by analysing each individual's cast and then assisting the angler to move into the arena of distance casting. We cover various casting tips such as single & double haul, pause & drift, creating maximum line speed and utilizing the wind.
You'll be adding extra distance to your cast guaranteed !
Our intermediate level tuition equip fly casters with the ability to fish situations where a wider range of different casts are required. We also cover roll casting, reach casts, mends, wind casts, alternative angle casts and more ! This is time well spent with fly fishers wanting to move forward in their understanding and proficiency of alternative casting techniques.
---
Advanced Level Tuition.
2 hrs - $ 150 ( 2 or more anglers / $135 each )
Advanced fly casting techniques to accomplish a wide range of alternative casts will be covered and comprehensive instruction will be provided to assist anglers to accomplish these casts. No matter whether you've already mastered some of the so-called slack line casts to be covered and you wish to hone your skills and learn additional casts or improve your roll cast, every caster leaves the session equipped with knowledge to cast more proficiently and further advance in their fly casting. Advanced techniques not only open up a whole new area of fly casting to enjoy but more so, rewards you with the ability to catch even more fish.
Advanced Techniques and Alternative Casts we cover :
Double haul

Extended Pause & drift

Creating maximum line speed

Combating & Utilizing the wind

Casting Trajectory

Accuracy

Roll Cast

Fast Cast

Steeple Cast

Climbing Cast

Galway Cast

One & a Half cast

Bow & Arrow Cast

… and more !
Slack Line casts we cover :
---
2 Day Introduction to Fly fishing.
4 hrs & 2 hrs - $450 ( 2 or more anglers $400ea )
+ Accommodation at current rates.
This course held over 2 days gives the opportunity to gain a full fly fishing experience of instruction as detailed in the 4 hr course plus a second day to learn the skills of reading water and undertake a guided fishing session with your non-fishing personal guide. The 2 day timeframe gives the angler extra time to settle in to the 'feel' of fly fishing and enables the instructor further time to assess the anglers needs and give personalized tuition.
Golden Cane Couples Retreat on the beautiful Coffs Harbour Coast NSW is more than just an ideal fishing location and holiday destination, this is the official fly fishing accommodation owned and operated by A1flyfishing.com.au Australia's No1 Discount Fly Fishing Tackle Specialists. Book a holiday or attend one of the regular fly fishing weekend workshops.The bustling shopping village is only 900m away. Beach fishing, surfing and swimming is popular. Bushwalking tracks and bike paths lead to numerous headlands along the cove dotted coastline. Wildlife abounds and kangaroos are often seen around the lake edge while eagles soar above. Non-fishing partners have more than enough to do and often encourage the anglers to stay for .. " just 1 more day".


Alternative OFF-SITE Accommodation ...

Woolgoolga lakeside Caravan Park. Accommodation can also be arranged onsite at the Lakeside Caravan Park in cabins, or camping sites.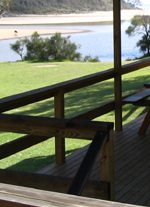 Woolgoolga Lake View from Cabin accommodation
Location: Woolgoolga NSW
Our courses are conducted waterside within the grounds of Golden Cane Couples Retreat on Woolgoolga Lake, a picturesque saltwater estuary where you will be able to try your new skills on the water. Some may be surprised at fly fishing in a saltwater environment, those in the know will be aware that 'Saltwater fly fishing' is the fastest growing aspect of the sport. With the endless beaches, rivers and estuaries we enjoy in this great country, the opportunities to enjoy the sport of fly fishing is endless. The skills you will acquire will not only enable you to fish saltwater but have you equipped to fish in our freshwater streams and impoundments.
Woolgoolga is one of Coffs Harbour's northern beaches only 25kms from the Coffs CBD. Woolgoolga is the next largest CBD outside Coffs Harbour and is a very popular tourist destination. Beachside parklands adjacent to a colourful bustling shopping village host monthly beachside markets and regular festivals. Alongside Woolgoolga lake & beach, recreational activities include bike & bushwalking tracks, art gallery, cafes, restaurants, and other numerous attractions . A regular bus service operates along the entire Coffs coast.
Woolgoolga Lakeside Cabin and Caravan Park's quiet picturesque oceanfront setting .
---
Purchasing Fly Fishing gear.
If you are wanting to start fly fishing we suggest you consider purchasing a FLY FISHING STARTER OUTFIT from our website.
No one can supply better value equipment than us. Apart from our bargain prices, it's a real advantage to have our experience when buying an outfit so we can match the correct outfit to your particular fishing requirements. Attending one of our courses with a new outfit is a big advantage when going through the 'set-up' section of a course so that you are actually setting up your new rod . We have a full range of fly tackle and suggest you view our website before attending our classes so that required items can supplied prior to or on the day. Please ask about our Starter outfits and other items when booking .
We prefer a minimum of 2 anglers to attend a course so we suggest you try and book with a friend so that your preferred course date can be guaranteed.
Single bookings are ok and will be accommodated within any pre-scheduled course dates and times.
Course starting time of day is flexible to suit participants.
While we supply all equipment required for our courses, we encourage you to also bring along your own rod if you own one.
Our course fees include
all course notes
use of equipment.
What to bring
a hat, sunscreen
sunglasses
waterproof jacket
a waterbottle.
Enquiries & Questions: If you require additional information or have special needs please phone and discuss your requirements. Wheelchair fishermen are accommodated for in our well suited location.
Children undertaking tuition must be over 10 years of age and accompanied to the class by an adult .
Bookings : 02 6654 8777
Email: A1flyfishing@smartchat.net.au
---
Additional Services and General infomation
Fishing with lures and baitcasting reels.
2 hrs - $ 150 (2 or more anglers $135 each)
We cover:
Lure types – Hardbody, Soft plastic and Metal lures

Rigging of lines and leaders

Fishing outfits to suit lure size and target species

Reel choices – Threadline & Baitcast.
It can be frustrating learning to use baitcast reels but our casting tuition covers baitcast and threadline reels and will have you confident in their use quickly. Time is then spent on the water casting various lures while learning retrieval options for a wide range of species. You even have the chance of catching yourself a fish or two. Understanding which lure works in each situation and choosing the right lure for the species you're targeting is a big advantage in becoming successful in catching fish on lures.
---
Private Tuition
$75 hour per angler - 2hr minimum

Private tuition is you on your own with a tutor covering any aspect of fishing you desire. The time of day & length of time you spend with the tutor is at your discretion.
---
Corporate services. We also offer our courses as Corporate outings for your company's employees and clients. Our waterside courses are set in a great location to relax and enjoy the lake and beach surroundings over a BBQ while having a fun theme for the day of ' Having a go at fly fishing'. We can arrange the entire day for as many of the staff that wish to come along. Corporate costs are subject to numbers and requirements, prices can be quoted upon application.
---
Wheelchair anglers and those requiring special care are most welcome.
---